Pumpkin Purple Pet Brush 2022 Hot New
Order now
and it ships within
22 hours
42 minutes
30-Day Money Back Guarantee

Applicable to Long-haired dogs|Short-haired dogs|Small dogs |Medium-sized dogs |Long-haired cats |short-haired cats
Our Pumpkin Pet Brush



comes with the "Push" technology which cleans the comb easily and keeps the home area free of stray hairs.
Curved special stainless steel comb teeth
The curved design of the comb teeth allows you to better

 

care for your pet's hair.

It is pet-friendly and uses a special stainless steel needle with a protective cover at the tip. Stress reaction and resistance are less likely to occur.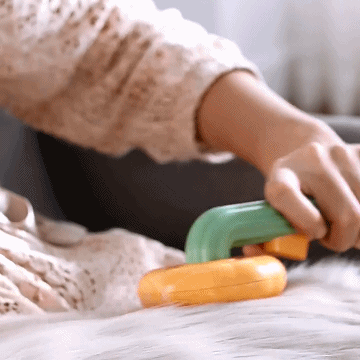 One-touch cleaning
When you're done brushing your pet, just click a button and the loose hair will be push out from the brush. It's so easy to remove all the hair from the brush, so be prepared for your next use.

The button is on the handle, which makes continuous operation easy and saves time and effort.
Our pets' fur gets tangled and matted easily, especially when they get dirty. In order to get rid of tangles and get healthier hair, you need a special tool to brush them off.
The pumpkin pet grooming brush is definitely the right tool you want. It has been developed taking into account your pet's well-being to help you take care of its fur.
A fine bent wire bristle brush will help groom the undercoat without scratching your pet's skin. Built-in needle body bent coated with protective sleeve will penetrate deep, brush and remove impurities in a painless way.

Being made of non-toxic, high-quality ABS material, it's odorless and safe for your pet.
Keep your grooming tool clean by washing it with water and soap or detergent, as it's made of durable and waterproof materials.

The bristles retract into the brush, making it super easy to remove all the hair from the brush. It's really simple - you just press the one click clean button and that's it - your self-cleaning pumpkin pet grooming tool is ready for the next use!
Whole body can be washed with water
The teeth of the comb are made of stainless steel, and the whole body can be washed, saving the trouble of cleaning.

Pet grooming brushes for cats and dogs.
Wide Application

The perfect brush to remove all unpleasant mats from your pet's fur – the slicker brush gently removes loose hair, removing tangles, knots, sebum and trapped stains. Great for dogs and cats of all sizes and hair types!

Simple and practical design, easy to use. This pet combs are the perfect choice for long-haired or short-haired cat dogs. Widely suitable for rabbits, horses, dogs, cats, etc.
NON-SLIP AND COMPACT
This grooming brush takes care of both your pet's wellness and your own comfort. It has a built-in comfort-grip and an anti-slip handle, which will prevent hand and wrist strain no matter how long your pet would be brushed! Carry it around with ease, as it fits easily in purses and grooming bags, because of its lightweight and compact design. Everything at hand!
The pumpkin pet grooming brush is designed for use on dogs and cats, and both small and big breeds. It can groom your pet's hair - short, medium, long-haired, thick, thin, curly or a big tangle - processing all kinds of coats thanks to its multi-use design.

In addition, it is the perfect size for use on other pets such as rabbits, ferrets or guinea pigs. You can use the same brush on different pets you have at home without the need of purchasing multiple grooming tools - all in one.

The brush will not only help keeping your pet's clean, but also it's really relaxing and improves circulation, which is good for your four-legged friend.
1 x Pet cleaning brush